We need, it seemed to me, some other sort of freedom than the Russian svoboda could give to us. It should be built on a Teutonic foundation without any dependancy to Slavic bursts of sentiments.

Helsinki, at the end of March 1917.



---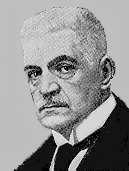 A chapter from "Från händelserika år I-II" (Eventful years), Helsinki1920, the memoirs of Edvard Immanuel Hjelt (1855-1921), professor in chemistry, honorary state councellor, senator, rector och high chancellor of Helsinki University.

Translated (©) by Pauli Kruhse .

Back to the history page.